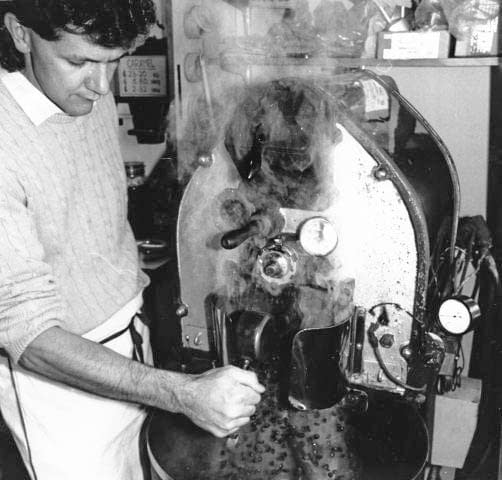 When Bill Sheaffe started roasting coffee in 1985 he was fortunate to find as a mentor a retired roaster, George, who had a 50 year career as a coffee roaster in Sydney. Bill spent some time with George, learning from him before he purchased a roaster in Lismore. This was a small drum roaster manufactured in Europe in the late 1940s and was the most common method of roasting coffee at that time, and still is today. This roaster (seen at left with a young Bill) was located in the retail shop in Carrington Street, Lismore, a concept unusual in 1985. It was only capable of roasting 5 kg batches and by 1990 no longer met the demands of our customers. Mind you, it still has a place in the retail shop as part of Caddies' history, and where customers can find their local free newspapers.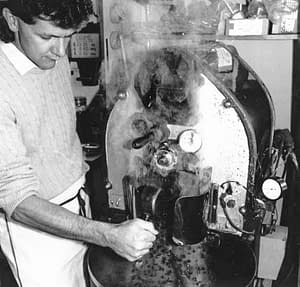 We replaced the old roaster with a new roaster that employs an improved roasting technique known as 'fluidised bed roasting'. This roaster is capable of roasting more than 2000 kgs per week. Coffees from this new roaster tend to be more fruity with balanced acidity and a consistent, even roast.
The role of a coffee roaster is the same as that of a vigneron. Whilst anyone can be taught to roast coffee, the success of Caddies' coffees is the result of Bill's passion for, and understanding of, the differences between beans from different origins and different roasting requirements that is fundamental to great coffee – it's Bill's experience and commitment that truly make the difference.
One of the things Bill has observed with coffee in the past 30 years is that growers are better informed now with greater concern for the environment, a recognition of cultural and social practices and values (e.g. Fairtrade and organic), greater use of newer technologies (e.g. colour and laser sorting) and some producers of high quality coffees shipping their beans in poly-lined sacks. All of these features result in a better cup of coffee for coffee lovers.