In 1985 Bill Sheaffe started Caddies Coffee Company, roasting coffee in the retail shop located at 20 Carrington Street in Lismore NSW.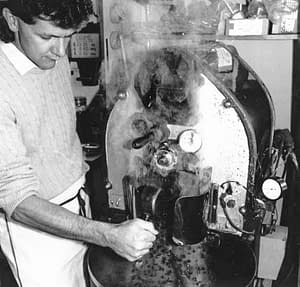 Over the past 30 years Bill has established a reputation for stocking the best quality coffee, tea and brewing supplies. His dedication to understanding all aspects of coffee, from the growing, importing/exporting, roasting and brewing, has lead to him creating some outstanding and award winning roasts still available at Caddies today.
Today the business is still owned and operated by family, with Bill's granddaughter, Jess, recently taking ownership in July 2017.
Jess along with her business partner and husband Scott, grew up in the northern rivers and are now raising their family in this place they call home.
In preparation for the business to be passed down to the next generation,Bill has spent the last 18 months teaching Scott all there is to know about roasting on the Belaroma Fluid Bed Coffee Roaster, bean selection, recipe development and the flavour profiles of various coffee beans.
Today you will find Jess managing the retail and online shops, whilst Bill and Scott maintain the same quality and standard of coffee that has come to be expected from Caddies Coffee & Tea.